San Clemente Broken Roofing Tiles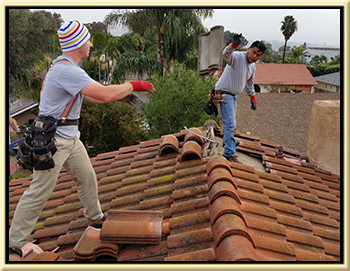 South County Roofing and Roof Repair is a tile roof repair specialist roofing here in San Clemente, CA. We will help you maintain your roof and keep it leak free.
If you think you may have a few broken roof tiles you shouldn't wait. Broken roofing tiles can cause your roof to leak. And, roof leaks are expensive to repair. Call us for an honest evaluation of your roof. It is always a good idea to have us look over your roof and make sure nothing needs to be done before the rainy season.
Get Your Roof Tiles Replaced With A Smile!
Not only are we completely licensed, bonded and insured with Workers Compensation and 2 Million Dollar General Liability insurance. We have a great reputation and we love fixing roofs! It's all we do and we do it with a smile.
We appreciate our customers and we pride ourselves on customer service. You will be happy you called us. After all, the Customer is Alwasy Right!
Experienced Roofer for San Clemente
We just celebrated our 20th year in business on June 26th, 2017. We have the roof experience you need. And, because all we do is repair roof you will have a roof repair specialist fixing your roof. There's no better way to get your roof to last than having us on it.
San Clemente homes have many types of roofing tiles installed on them. Some of the oldest homes in Orange County are located in San Clemente and they have tile roofs on them. No matter if you have a 100 year old Spanish clay tile roof or one of the newer cement tile roofs we can fix anything that is wrong with it. We are your local tile roof leak repair speciailist.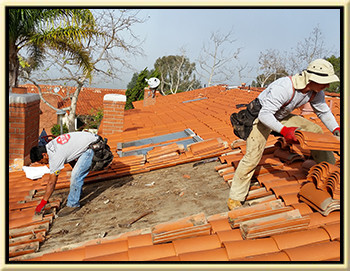 We Repair Slipped or Displaced Roofing Tiles
No matter what type of roofing tiles you have on your roof we can properly replace them without causing roof leaks. We take your small job very seriously. We never take short cuts and we take pride in doing every little detail just the right way.
We always remove the debris under the roofing tiles as opposed to breaking up the pieces and stuffing them under your roof. Yes, believe it or not people do this all the time!
Bottom line, we do it right the first time. We will check the felt paper under the removed tile to ensure it has not been damaged. The nail hole that is left when we remove the fastener is sealed up and we use a tile adhesive to adhere the replacement tile in place.