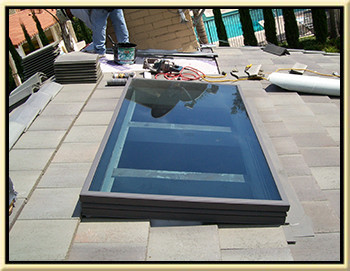 San Clemente Skylight Contractor
Don't get fooled into thinking that a roofer is going to be able to repair your leaking skylight by simply caulking it. It's not going to happen. A leaking Skylight can be difficult to fix properly.
Sometimes you will need a new skylight and sometimes it is the roofing around the skylight that is leaking. It is important to find a contractor that knows the difference and that would be us!
We have fixed hundreds of leaking skylights here in Orange County and many in your area in San Clemente. We have skylight repairs down to a science. If you think your skylight needs replacement or is maybe leaking then give us a call.
We will send out a professional from our team to check your skylight first hand. After seeing the problem we will know what is the problem and what is the best solution to fix the problem for once and for all.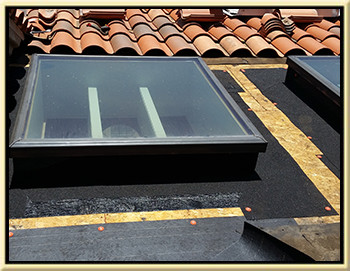 What if The Roof or The Flashing is The Problem?
We know how to remove all of the roofing and skylight flashing around the skylight. We always make sure we carefully handle your roofing tiles or shingles and do not damage them.
With everything removed we will inspect the decking and make sure you don't have any mold damage that will need to be repaired. Don't let mold damage stay under your roof!
After we have checked and repaired the deck, we will install new and premium waterproofing around the skylight curb. New flashing will be fabricated on the spot and properly installed.
Lastly, all tiles or shingles will be reset back to their original condition. Now, that may sound easy and we may make it look easy it but, trust me it is not. We top everything off with a bullet proof Money Back Guarantee and you are all set
Skylight Replacements and Solar Tubes
Skylights typically last about twenty years and after that time they should be replaced. Signs that your skylight is old and should be replaced are: cracked glass, water leaking from the inside (just under the domed part).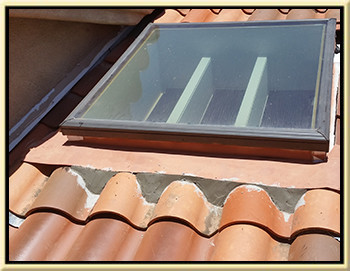 When replacing your skylight you have a few options. You can get them single or double domed. The double domed skylight is better because it is more insulated but will cost slightly more.
You can also get them in a flat glass surface. The flat glass more resembles a window. Both the flat glass and the acrylic domed skylight can be tinted.
Skylights can even be purchased so that they can be opened but, be prepared for the cost per unit to double if you want it to be able to open up. Openable skylight can be helpful for letting out hot air of a taller room.
Tubular skylights are great for lighting up a dark bathroom or hallway. They come in sizes that are slightly larger than a recessed light and we can install them as well. If you need a skylight or tubular skylight replaced, installed, or repaired then give us a call